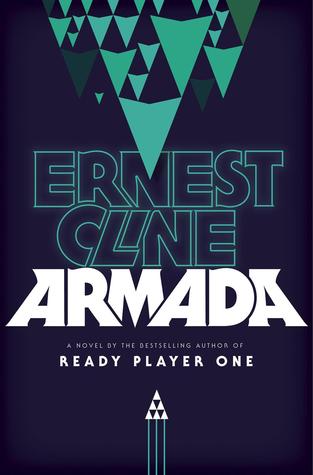 Title: Armada
 Author: Ernest Cline
 2015 – Fiction – Science Fiction
 Rating: 4.5/5
 Source: Book mail from Penguin Random House
The Story: Zack Lightman has spent his entire life watching the movies, playing the games, and listening to the music that his father loved, trying to come to grips with his father's death when Zack was a baby. Zack spends the majority of his time playing Armada, an aerial combat simulator in which the player's objective is to save the world from an impending alien invasion. But when Zack spots an actual enemy ship from Armada on school grounds, he is forced to confront the idea that it's all real. And that he's spent years training for the front lines.
The Opening Line: I was staring out the classroom window and daydreaming of adventure when I spotted the flying saucer.
Thoughts: Happy release day, Armada! I've spent months and months anticipating this release, and it's finally here, you guys! I'm such a huge fan of Ready Player One – it might be my favorite video game book of all time, and it's certainly set the standard for virtual reality/gaming plots for me. Hot on its heels is Armada. Holy crap, this book is good!
Armada is definitely different than RPO. It still has gaming at the core of its plot, but not so heavily or immersive. Instead, the action is all too real, as Zack has to save the world just hours after he figures out that Armada wasn't just a game. Seriously though, how many of us as gamers have yearned for some of our favorite adventures to be real? I've dreamed of questing through Skyrim, earning rupees and riding Epona, searching for ancient treasures in exotic locales. This book is that story!
Just like RPO, Armada has a ton of allusions to classic science fiction movies, games, books, and more. If you wanted a nerdy checklist, Ernest Cline is the man with the info. Armada alone added several movies to my list of must sees, including some I'm ashamed of having never watched, like E.T. I want my nerd game to be as good as Cline's, so I've enlisted my roommates to join me in movie and board game nights, video game tournaments, and more. If not the main sticking point of the book, a side benefit is that Cline continues to promote gaming and nerd culture as reputable hobbies, and I'm okay with that.
Now if you'll excuse me, I have some Blade Runner to watch.