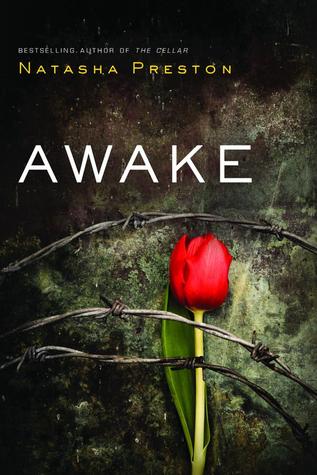 Title: Awake
 Author: Natasha Preston
 YA – Realistic Fiction
 Release Date: August 4, 2015
 Source: NetGalley
I keep swearing to myself that I won't request ALL THE THINGS on NetGalley and then I go and do it anyway. I guess I can't resist the lure of a great premise, especially when I can theoretically push my reading of said book a little into the future so it doesn't screw up my current reading plan.
Awake is one of those books with a great premise. Scarlett doesn't have any memories before the age of five, and her parents have told her that her memory loss is due to a house fire. But when her family is in a car accident and Scarlett has some strange dreams, she begins to wonder if those dreams are actually memories. She slowly begins to piece together her lost memories – memories of a cult, a strange girl, and fire. She realizes that what she knows about her family is all wrong. And her boyfriend Noah may also not be what he seems.
The thing I really liked about this novel is that its premise kept me reading. Throw in an uncertain origin story and a crazy cult with secret rituals and you've got me hooked. Even if I had hated this book, I would have kept reading solely to find out what happened. I think the most interesting thing about cults is that they can seem really innocent in their intent but may be more nefarious from afar. Eternal Light, the cult from the novel, is a group all about living off the grid – eating healthy, restricting technology, living communally. But there's also a darker side, in which a sacrifice is needed to ensure eternal life for the members.
Unfortunately, the really compelling aspects of Awake were overshadowed by some issues that I couldn't overlook in the end. Let's deal with the issue of insta-love first. Noah shows up as the new kid at school (which is a cliche in and of itself), and by the end of the period,  they're hooked on each other. By the end of the month, they're talking marriage. What the heck? The other issue I found also revolves around Noah, but I can't really say much about it because…spoilers. Which sucks, because I want to talk about it.
So in the end, I'm not sure how I feel about the book overall. I can't in good faith recommend it to anyone looking for a really well-written, well-developed story with dynamic characters. But the story did compel me to read all the way through, so if you can get past the major issues, you might enjoy the story as a light read.