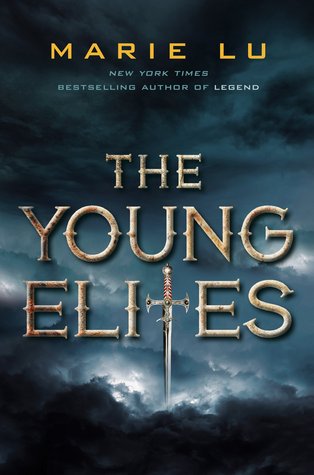 Title: The Young Elites
 Author: Marie Lu
 2014 – YA – Fantasy
 Rating: 3.5/5
 Source: Won in a giveaway
The Story: Years ago, the blood fever raced through the whole country. Every infected adult died, but some children pulled through. These children were often physically marked and scarred by the fever, causing an initial wave of pity among the populace. But later, some of the children began to display terrifying powers, becoming known as the Young Elites. Now all malfettos are reviled and hunted. One of these, Adelina, is sentenced to burn at the stake, but is saved at the last moment by the Elites. Do they truly care about her – or do they only want to use her newly discovered powers to further their own cause?
The Opening Line (taken from an ARC): I'm going to die tomorrow morning.
Thoughts: I won an ARC of this novel in a giveaway, but since then, it's been languishing on my bookshelf while I've been reading other things. My roommate read this before me, ultimately liking it but calling it a little weird. When I heard that, I was hesitant. I don't know why. But lo and behold, this title showed up on the eligible list of titles for the YALSA Hub Challenge, so I ran out of excuses to avoid reading it.
The premise is at once both new and familiar in the landscape of YA fantasy. The idea of a group of teenagers that can wield special powers is a familiar one. But when those special powers are the result of a seemingly random brush with death at the hands of blood fever, it becomes new and mysterious. Also fresh is that each teen is aligned with a certain type of power that represents one of the gods or angels. For Adelina, she resonated with several different alignments, from passion to darkness. But the talents really fall on a wide spectrum. One Elite can call up wind, while another works with fire. One has an affinity for animals. Adelina can create illusions, which is a really cool, albeit seemingly useless, talent. But as she learns to wield her power, there is more that she can do and create than originally known.
The idea of a corrupt or weak ruler and a play for the throne is familiar as well in the fantasy world, but the Inquisitors bring a new angle. The Lead Inquisitor works closely with the queen to slowly wipe out the entire malfetto population. There are two purposes for this, at least that I saw. The first is straightforward – rid the earth of malfettos. The second is to hold public executions of these malfettos in the hopes of drawing out and capturing the Young Elites. Although the Inquisitors must use discretion, they have plenty of power to use any means possible to obtain their goals.
This mix of new and familiar made The Young Elites stand out from the crowd. It was familiar enough that I wasn't lost, but it was surprising enough that I couldn't guess what was coming next. And with an ending that will shock many readers, The Young Elites pulls no punches, but is brutal and unpredictable.
I did think the character of Adelina was a tad dry and repetitive, and ultimately I just didn't care enough about her. She seemingly wielded her power at random, one minute being unable to call on it in a time of deep fear, the next using it pretty easily. I would have loved to see more control and discipline. I'm hoping that will come later, as this is a planned series. I do plan on reading the rest, so we'll see how things go.