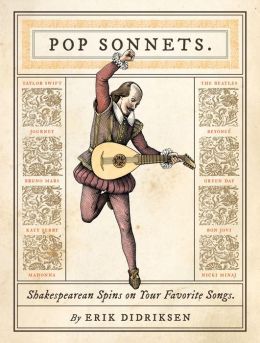 The very content of Pop Sonnets is something so completely new and different that a traditional review just seems silly. So instead, we're going to play a game. Here's how it works. I'm going to give you a sonnet, you tell me which modern song it represents. Ready? Here we go:
This mountainside, engulf'd in snow untouch'd,
reveals the isolation I command;
the icy storms that I have tightly clutch'd
within my heart have blanketed the land.
No longer could I heed my parents' will
to hold my youthful hopes and fears at bay;
so all have seen I've mastered winter's chill –
my years of forced seclusions toss'd away.
The page hath now been turn'd; I'll break the chains
that held restrain'd my true identity.
This queen will rule, but o'er her own domain,
without a care for what they think of me.
-I'll not again the falling snow withhold
for I have ne'er been bothered by the cold.
Sound familiar? If you guessed Frozen's megahit "Let it Go", you guessed correctly! Yay for you! Let's try another one:
The bells toll seven times and I arise;
my fast is broken with a bowl of gruel.
I freshen up, wash sleep out of my eyes,
and start my daily journey t'ward the school.
My friends approach within a carriage small
and bid I make their trav'ling group complete;
I nod assent, but first must briefly stall
whilst I decide wherein to take my seat.
O, Friday, weekend's herald! Happy date,
thy blessed presence merriment portends!
O, harbinger of Sabbath, come elate
our hearts with revelry and time with friends!
-Thy life began with Thursday's late demise;
and when thou go'st, sweet Saturday shall rise.
You might recognize this one as a viral Youtube hit from a few years back, the ever-reviled Friday. It doesn't sound quite so bad in poetry form, huh?
Pop Sonnets is divided into five sections, each filled with fun and entertaining sonnets in the style of Shakespeare. I read a few a day so I didn't get burned out, but it was so fun trying to guess each song that burnout wasn't really an issue. It was also really fun to read the sonnets aloud and have other people try to guess.
Pop Sonnets will release on October 6, 2015. If you can't wait that long, check out author Erik Didriksen's Pop Sonnets Tumblr account at http://popsonnet.tumblr.com/ for new sonnets weekly!