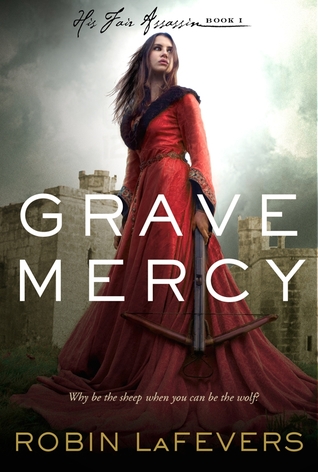 Title: Grave Mercy (His Fair Assassin #1)
 Author: Robin LaFevers
 2012 – YA – Historical Fiction/Fantasy
 Rating: 3.5/5
 Source: Library
The Story: Ismae has always been rejected by those around her. But after being sold into a cruel marriage by her father, she is rescued and given sanctuary in the convent of Mortain, the god/saint of death. The convent trains her in the ways of death – poisons, blades, stealth, seduction. Her first assignment is to integrate herself at court and seek out those who would betray the duchess, but will her heart and her doubts stand in the way?
The Opening Line: I bear a deep red stain that runs from my left shoulder down to my right hip, a trail left by the herbwitch's poison that my mother used to try to expel me from her womb.
Thoughts: This is a book that's been on my TBR for maybe a couple of years, to be honest. I know a ton of people have read it and loved it, but I've just really never had the burning motivation to pick it up. But when I stumbled across the first two on the shelf at the library, my excuses ran dry and I checked it out.
First, it isn't exactly what I expected it to be. I'm not really sure how to explain, but when I think of the fantasy genre, I have certain standards and conventions in my head that I expect to see in the book. Grave Mercy really didn't fit a lot of those conventions (no magic or unnatural creatures, very light supernatural influences). But maybe it isn't actually considered fantasy and I just made that up? I'll have to check Goodreads later to see how other people have shelved it.
As historical fiction, it certainly works. Court intrigue and betrayal is always interesting, and I loved the historical context. Today we all know that Brittany is part of France, but this novel is set in pre-French Brittany, as the soon-to-be-crowned duchess is trying to repel the French and maintain her country's autonomy. The politics of the novel are fascinating, and I continually realized that I had no one's motivations completely figured out.
My favorite part of the book is Ismae, which maybe should be expected, as she's the main character. Her status as a handmaiden (and maybe daughter?) to Death was really intriguing, and I love the idea of a convent that trains women in the arts of death. In a historical context, women didn't have much power or autonomy, so giving them a sort of control and the ability to defend themselves is huge!
In the end, the book was pretty good. It felt a little long while I was reading, but I enjoyed my time with it. I'm currently working on the second in the series, which so far has focused on a different character, so I'm interested in seeing how everything comes together.