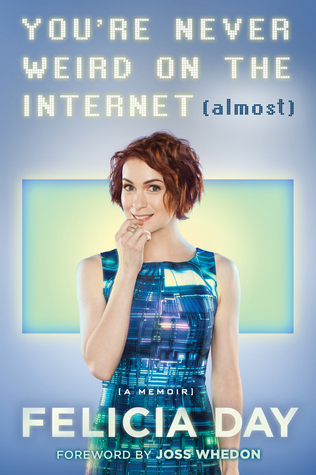 Dear Felicia Day,
I just finished reading your book, and now I'm sitting here trying to figure out how best to put all of my feelings into words. This letter was originally going to be a normal book review, but that just didn't feel right, to distill everything I have to say about the book into such small snippets and parameters.
This is what I was thinking the whole time I spent reading this book: It felt like you were talking straight to me. Writing for me. I think I can speak for a lot of us when I say that at times it seems like we are all alone in our passions and fandoms and hobbies. But you? You get us. I was that same 4.0 kid being shaped by the expectations of the world around me, and now at 25, I'm still trying to figure out who I am and what I want my life to be.
I hope that it's something like yours. Because from the little I know of your life after reading your book and watching The Guild and trying to catch up on episodes of Co-Optitude, I'm learning that it's okay to be awkward and shy, to replay conversations in my head afterward trying to figure out what went wrong, to do things wrong. To move forward. To yearn for more in my life and to strive for that, even in small ways. To be intentional in connecting with people and building community around common interests.
I'm learning about myself that gaming and reading and watching Dr. Who aren't hobbies I should be ashamed of. That when I proudly present my drawing to a group and they ask "Who is Harley Quinn?", it's not a reflection on me. That I don't have to defend the things I love, but I can instead be unapologetic and true to myself. Thanks to you and Wil and Tabletop, I've discovered a jumping-in point for tabletop gaming, something I was always too daunted to get into before. Now I play games every week at my local game store with my roommates and other people like me. Thanks to your book, I'm inspired to write and draw and create, even if nothing ever comes of it. I may never get Internet famous, but I'm at least beginning to like myself for who I am.
So thanks. Thanks for being courageous and outspoken. Thanks for writing your book. Thanks for your inspiration, your willingness to connect with fans, your quirky humor, your authenticity, and your passion that led to the creation of some of my favorite things. At the end of it all, thanks for being exactly who you are. The world wouldn't be the same without you.
All the best,
Jancee