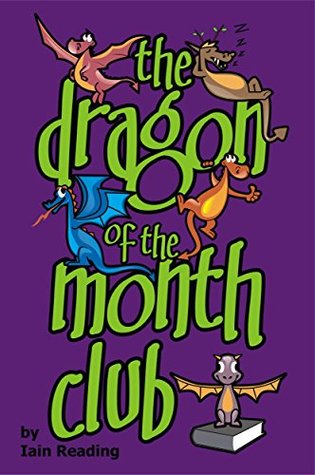 Title: The Dragon of the Month Club
Author: Iain Reading
2015 – YA – Fantasy
Rating: 3.5/5
Source: Book Publicity Services
The Story: After a chance meeting at the local public library, Ayana and Tyler become fast friends. One day they discover The Book on a library shelf and immediately realize that the book is actually more than what it seems to be. And it is – the book actually turns out to be an instruction manual on how to conjure up dragons. But after a mishap sends Ayana and Tyler into a variety of universes from different novels, those same dragons must play a role in helping the duo return to the real world.
The Opening Line: The very unlikely friendship of Ayana Fall and Tyler Travers began on a Thursday afternoon in the maze of bookshelves at the back of the old library.
Thoughts: From the beginning, I knew this had the potential to be a unique novel. First think of something like a book of the month club or a wine of the month club and you have one aspect of the plot – that each month Tyler and Ayana have the chance to conjure up a new type of dragon if they have all the required materials available. Now think of books where the main characters can enter book worlds and explore the settings and meet the characters of those universes and you have the second aspect. Putting those two things together is fun and creates a really interesting story.
There were two portions of the story I really loved. The first was Tyler and Ayana's time with the Chinese…sage? I'll call him that for lack of a better word. There were some really great visuals and at least one unexpected twist that I couldn't have predicted. Well, I take that back. Had I read the original folk tale, I would have been familiar with that story. I also loved Victorian London and the duo's encounters with Sherlock Holmes. I found it quite inventive to have Tyler actually help the great detective based on his knowledge of the Sherlock Holmes stories. The book was just fun and creative all around, and a solid start to a new series.