It's Monday! is a weekly meme originally hosted over at Book Journey that allows bloggers to post a sort of wrap-up of the past week while also looking to the week ahead. Without further ado…
Last Week: The whole week was so stressful. We are still prepping for my sister to move in, so we did a lot of stuff last week for that. We moved furniture around. We ordered a bunk bed and mattress. We assembled the hellish thing – seriously, it took 5 hours and one part of the instructions was wrong, so we had to take the thing partially apart and reassemble it. It was by and far the worst part of the week.
When I get stressed, I tend to do a lot of nothing. And I don't mean the productive kind of nothing, where you at least make good progress through a Netflix show or something. I mean the kind of nothing where I look at the time and get upset because I wasted the last 3 hours scrolling through Buzzfeed articles. So inevitably my reading suffers.
Posts:
Currently Reading:
The Sixth Extinction: An Unnatural History – Elizabeth Kolbert
Tales – H.P. Lovecraft
The Dead Girls of Hysteria Hall – Katie Alender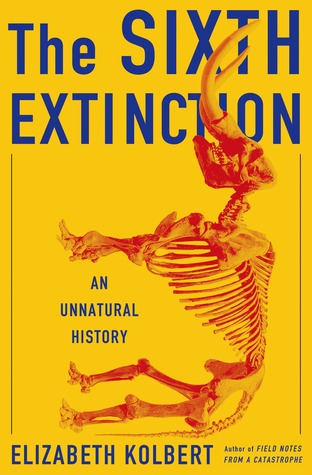 Looking Ahead: I feel like this happens more than four times a year, but start week for our students is here again. It's always a busy hectic week with presentations, last minute entrance exam testing, textbook distribution and more. On top of all that, Constitution Day is Thursday and we are required to "celebrate" in some way, so I'm in charge of that. We still have stuff to do to get ready for Tiffany, I need to rent a hotel room for our trip on October, and I don't feel all that well. Here's hoping it won't actually be as crazy as it sounds. Here's hoping to some dedicated time to read and relax.
There's a delicious chill in the air and my Halloween reading is really starting to terrify me! This is definitely my favorite time of the year! Enjoy it, everyone!