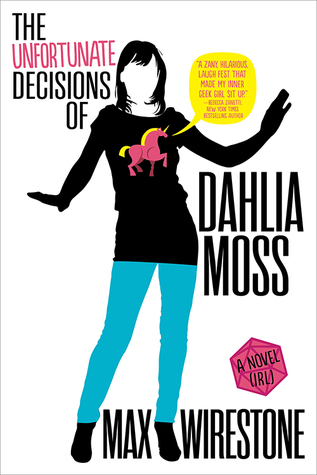 Title: The Unfortunate Decisions of Dahlia Moss
Author: Max Wirestone
Release Date: October 20, 2015
Rating: 4.5/5
Source: NetGalley
The Story: Dahlia Moss is unemployed and contemplating her life decisions when she is approached by Jonah Long at a costume party. He has a curious proposition for her – for $2000, retrieve a digital spear in an online game from the person who stole it from him. But when he is murdered days later with a real-life replica of the spear, his parents turn to Dahlia to uncover the truth of the spear and the murder.
Thoughts: This is my kind of book. Right off, it reminded me of the web show The Guild, which is one of my favorite shows. Add in a murder mystery, the angsty contemplations of a 20-something millennial who isn't sure how to adult, and plenty of geeky references, and this is almost the perfect book. Dahlia is super relatable right from the beginning – she's trying to navigate adulthood with an almost useless college degree, a bad string of luck at job interviews, and a crazy roommate. But her geekhood is on point – she rocks Ewok slippers, wears Pokémon beanies, and slips in gaming references wherever she can. Just like me!
This novel was just such a light, fun read and I can't say enough positive things about it! Maybe that's because almost every single page seemed written for me. This is the kind of book I want more of, and I'm already pushing it onto all of my nerdy reader friends! I laughed out loud a ton, read portions out loud to anyone who would listen, and felt inspired to play an RPG, any RPG. There aren't a ton of books out there for the nerdy crowd (I get that it's a smaller, more specific niche), but this sates my appetite perfectly! More like this, please!