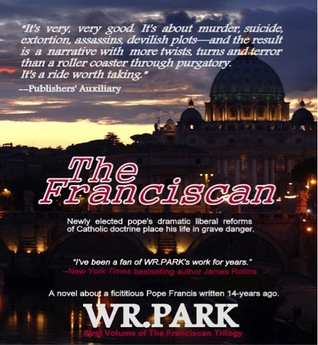 Title: The Franciscan (The Franciscan Trilogy #1)
 Author: WR. Park
 2014 – Fiction – Political Thriller
 Rating: 2.5/5
The Story: Cardinal Buldini believes that he's handpicked a meek, obedient friar to become his next puppet pope. However, Dom, newly named Pope Francis, has a mind and will of his own. Inspired by a vision from his childhood in which he hears the instruction to rebuild the church, he institutes a series of sweeping reforms that shock the world and bring danger to the Vatican.
The Opening Line: When God first imagined this day in earth's passage, he marked the calendar with an asterisk.
What I Loved: This novel had several components that immediately intrigued. Murder, betrayal, plots against the Papacy. The book seems well-researched in regards to the history of the Papacy and the Catholic church, and I learned quite a bit as a result. There was a ton of interesting theological insight – I especially appreciated this as I hold a degree in Christian Studies. I also appreciated that, although the book was written 14 years ago, it has been updated to reflect modern culture and included such things as Twitter and other social media.
What I Didn't Love: Several things vexed me. Most notably, the book suffered from an overabundance of dialogue. Everything was revealed in exposition instead of action – there were a lot of "By the ways" and "One other things" that occurred during conversations. In addition, the dialogue was formal and sometimes stilted. There were a lot of confusing transitions both within the dialogue itself and in the novel overall. And finally, I often noticed grammatical errors, missing punctuation, etc.
Final Thoughts: Written over a decade ago, this book almost eerily foretells the coming of the current Pope Francis, who has frequently shocked the world with his sweeping reforms, humble image, and efforts to clean up the church. That alone is a fun reason to read this novel. Ultimately, however, the novel just fell short of my expectations.