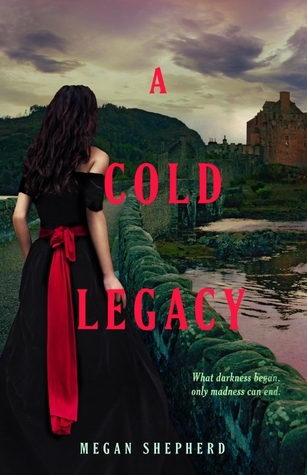 Title: A Cold Legacy (The Madman's Daughter #3)
 Author: Megan Shepherd
 2015 – YA – Horror/Historical Fiction
 Rating: 4/5
The Story: After fleeing London, Juliet and company (best friend Lucy, fiance Montgomery, servant Balthazar, friend/foe Edward/the Beast) head to Elizabeth von Stein's estate on the Scottish moors. Elizabeth's ancestor was the legendary Victor Frankenstein, and Juliet hopes that Frankenstein's science can help save Edward before the Beast overcomes him. But their arrival at the manor is unexpected and things go downhill from there.
The Opening Line: The last travelers' inn on the road from Inverness was no place to die.
What I Loved: Each of the books is an updated retelling of a classic work of literature, first The Island of Dr. Moreau, then The Strange Case of Dr. Jekyll and Mr. Hyde. This third book focuses on the Frankenstein myth, and does it wonderfully. I love this installment more than the other two because it is so perfectly atmospheric. A crumbling manor with secret passageways, tower laboratories, strange servants, and mad scientists all contribute to the Gothic feel of the novel. And I loved how Shepherd wrestled with the themes of the paths we follow, whether they are predestined or we get to choose who to be.
What I Didn't Love: Although I loved reading about Juliet's struggles with her decisions, at some points she started to feel a little bit whiny and repetitive. And slightly flip-floppy. She would strive to be like her mother, have her curiosity stirred by science, then decide that she had no choice other than following in her father's footsteps. It wasn't really until the novel was winding down that she began to grow as a more independent character.
Final Thoughts: The first two books in this series weren't my favorite, but I really liked this final novel. It was creepy, spine-chilling, dark. There were some great discussions about destiny, the impact of our own choices, and the importance of honesty, both in marriage and in general. There were also themes of friendship and sacrifice and what it means to be human. So it was really filled with such important ideas, all wrapped up in a delicious offering of terror and suspense. Definitely a great ending to this trilogy.